KORW lugs tested with Class 2 and Class 5 Cu conductors with IEn certification for rated voltage up to 36kV class 2 and 5 conductors.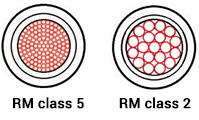 KORW-type ring lugs with a "narrowed" palm have been designed specifically for connection directly to the terminals of a switchgear.
Most of these types of connections are made of copper conductors of the 5th class of flexibility, i.e. H07VK. Crimping tubular part of a cable lug KORW type should be crimped with special dies (shape "hexagonal with notches" ) KP22-FL... type on a 5 class conductor.
To meet the needs of users, we have tested KORW-type lugs pressed on both class 2 and class 5 conductors for compliance with the requirements of the standard:
PN EN IEC 61238-1-3:2020-01 "Crimp and screw connectors for power cables - Part 1-3: Test methods and requirements for crimp and screw connectors for power cables rated above 1 kV (Um = 1.2 kV) to 36 kV (Um = 42 kV) tested on stripped conductors"
These lugs received positive test results confirming their mechanical strength in class 1 and electrical strength in class A - with short-circuit test.
The use of cables with the lugs tested in accordance with the above standard for connection to switchgear guarantees the reliability and efficiency of the power distribution system.
Certificate of conformity narrowed cable lugs KORW 25-240 type - core 2 class
Certificate of conformity narrowed cable lugs KORW 25-240 type - core 5 class